En 2022, Marine et Gabriel changent de biotope ET de genre humain ! Nous migrons avec les oiseaux, à vélo à travers l'Europe.
In 2022, Marine and Gabriel change biotope AND human kind! We migrate with birds, cycling across Europe. English version below.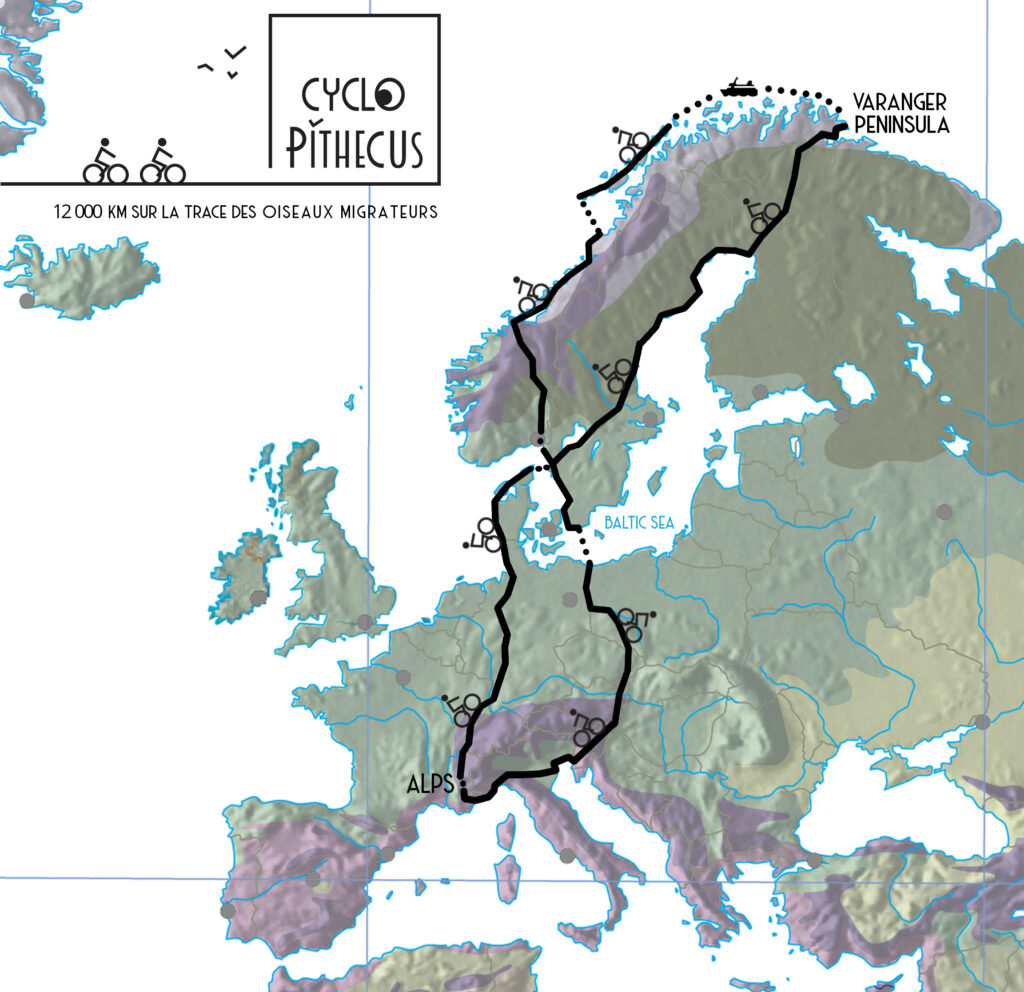 Nous troquons notre peau d'Homo domesticus pour celle de cyclopithecus et partons à la découverte de l'Europe, jumelles, longue-vue et appareil photo dans nos sacoches !
Nous partons à vélo, avec parmi nos objectifs, celui de rejoindre la Scandinavie. Nous remontons vers le Nord pour aller observer les oiseaux le long de leur parcours, et jusqu'à leur aire de reproduction. Ainsi nous traverserons les pré-alpes françaises, puis l'Allemagne à l'équinoxe de Printemps, et ensuite la côte Ouest du Danemark. Puis viendront les lacs, les côtes de la baltique et les forêts suédoises et la Laponie finlandaise pour atteindre la toundra arctique au solstice d'été. Pour la migration retour, nous redescendons par l'Europe centrale : Pologne, République tchèque, Autriche, Slovénie, Italie, jusqu'à notre aire d'hivernage dans les Alpes.
Following Homo domesticus, Homo cyclopithecus sets out to discover Europe with binoculars, telescope and camera in our luggage ! We leave by bike, with among our objectives, the one to reach Scandinavia. We are heading North to observe the birds along their route to their breeding grounds. We will cross the French pre-Alps, then Germany until the spring equinox, and the West coast of Denmark. Then we will cross the Baltic coast, the Swedish forest and the Finnish lapland, to reach the arctic tundra for the summer solstice. For the return migration we come back to our wintering area via Central Europe : Poland, Czech Republic, Austria, Slovenia, Italy and finally France.